Focus Dual (Radiofrequency Microneedling/ HIFU) is THE Go-to Treatment for Women and Men Looking to Lift, Firm and Tighten the Skin on the Face and Body. Here's Why:
Focus Dual is Safe
Not all Radiofrequency Microneedling or HIFU devices are equal. Focus Dual is made by the company that supplies machines to the NHS. It's one of the very latest anti-ageing technologies. The RF Microneedling element uses super-fine, non-insulated micro-needles which protect the skin's surface from damage that would otherwise be caused in some laser procedures and even surgery. Treatments are targeted at the various depths beneath the skin's surface, meaning healthy skin is left intact. This in turn causes minimal discomfort and less downtime in comparison to invasive procedures.
Unique to the Focus Dual's HIFU element is the Safety Assist Transducer. This eliminates unwanted overlap in the surface tissues, reducing post inflammatory hyperpigmentation, and vastly reduces discomfort.

Focus Dual is The best Non-Invasive Face Lift – and why Botox and fillers aren't the answer to everything



This article from The Evening Standard outlines why Botox and fillers don't address everything. The founder of a leading Harley Street Skin Clinic says, "[Botox and fillers] address a lot, but if you haven't got a good canvas overlying the structural filling you are still not going to look great". So many people are now investing in treatments that improve skin texture and tightness. It's the perfect solution whether you're looking to lift your jawline, plump your lips or improve your skin texture.
Focus Dual's RF Microneedling and HIFU is Virtually Pain-Free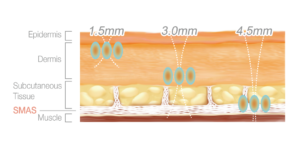 On average, a Focus Dual treatment lasts between 30- 60 minutes and is virtually painless. Our expert practitioner will first thoroughly cleanse the skin, before using either the HIFU Focus Dual handpiece, or the RF Microneedling handpiece containing super-fine needles. During a Radiofrequency Microneedling treatment you will feel a light pressure as the needles create "micro channels" in the skin, kick starting new collagen synthesis. As the needles lightly puncture the skin, radiofrequency energy is also released deep into the dermis layer. Every "micro channel" created triggers the production of new collagen and elastin to fill the microscopic wound. During a HIFU treatment you may feel mild heat, or tingling, beneath the surface of the skin. The heat trauma created by the ultrasound energy also triggers the production of new collagen and elastin, and tightens the skin from the inside out.
Virtually No Downtime after a Focus Dual Treatment
In contrast to invasive procedures (and many non-invasive procedures), Focus Dual requires virtually no downtime. Mild post-treatment redness and swelling at the treatment site is expected and normal, but this is minor, and usually disappears after a maximum of a day or so (usually a few hours).
Quicker Treatment Times with Focus Dual
This treatment can be sneaked in during your lunch break!You can expect Natural-Looking Results from Focus Dual Treatments

Focus Dual's super-power is to give skin back its snap by lifting, firming, & tightening the skin. You will see an immediate improvement in your skin. While this immediate effect is temporary, your real results will build and continue to improve up to 12 weeks after each treatment, for natural-looking results.
Long-Lasting Anti-Ageing Results from Focus Dual
This treatment generates the production of new, strong collagen through the process of neocollagenesis. To maintain this more youthful appearance of your skin, ongoing treatments may be required. Follow up treatments would usually be after around 12-18 months.
Bespoke Treatment Plan 
We will create a customised treatment plan that is tailored to address your unique skin concerns. You won't be recommended treatments that aren't likely to give you the very best results from your investment.
If you would like to find out more about Focus Dual and how this skin lifting, firming, and tightening treatment could benefit you,
I'd love to help.
Alex x