Saline Tattoo Removal for Permanent Makeup or Body Tattoos. (Non-Laser)
Li-FT Saline Tattoo Removal
l can reduce or remove pigment that gives you an unwanted shape, over-saturation or undesired colour.
Li-FT Removal
Non-Laser Saline Tattoo Removal
How it works.
Saline Tattoo Removal gently lightens or removes unwanted pigment through the process of osmosis. There is no risk of oxidisation like laser removal. The number of sessions depends on individual circumstances. See more details below …
Consultation & patch test required. 8 weeks minimum between sessions and prior to re-applying permanent makeup.
If You Are Unhappy With Your Permanent Makeup, Get in Touch.
Standard Removal or Lightening
Old Permanent Makeup:
Removal of Unwanted Shape, Colour or Saturation

It doesn't matter how long ago you had your permanent makeup applied – Saline Tattoo Removal can work for you if: 
Your brows are over-saturated or an unwanted colour


Your previous permanent makeup is misplaced or shaped incorrectly

Lip pigment was implanted outside of your lip line

Eyeliner is misplaced or you no longer want the wing

Eyeliner pigment has migrated

In any of these cases (and where a simple colour/shape correction isn't possible with further permanent makeup) Li-FT removal can help you achieve the desired look.
Emergency Removal of Newly Applied Permanent Makeup!
Emergency Removal
Technique to Remove Freshly Applied Permanent Makeup

If you have had permanent makeup applied within the last 72 hours, and are unhappy with it, it is possible to have it gently and effectively removed simply using this saline tattoo removal technique.
Best results within 48 hours of initial permanent makeup application for the ultra-gentle emergency removal technique. Act quickly for best results. Call for a free consultation.
Body Tattoo Removal
Removal of body tattoos

Smaller body tattoos can also be removed with Li-FT Saline Tattoo Removal. Contact us for more information to discuss your tattoo and what you would like to remove.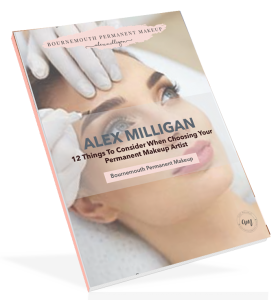 Download your

FREE

guide on what you need to know before you let anyone permanently tattoo your face.
Enter your details below and press send to have the ebook instantly delivered to your email: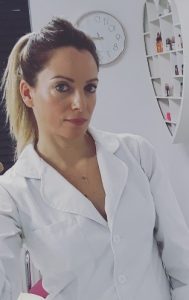 Alex Milligan
Bournemouth Permanent Makeup Specialist
What To Do Next …
Stop Stressing Over Your Poorly Applied Permanent Makeup. Call Alex Now For A FREE, No Obligation Consultation on:
Tel: 01202 905342 or Mbl: 07989 946578
(If the line is engaged or I am with another client then please leave a message and I'll get straight back to you as soon as I am free)
Or Simply Fill in Your Name & Email In the Form Below and I will contact you shortly …