WHAT'S THE DIFFERENCE BETWEEN MICROBLADING AND SHADING? 
You've decided that you want permanent eyebrows because you want to save ALL the time and look amazing, obviously.
But what should you go for? Microblading? Powder brows? Combination brows?
MICROBLADING EXPLAINED
Your technician will firstly discuss with you your preferred style, taking into account your skin type and face shape, amongst other factors such as your lifestyle. (Oily and thicker skin is often NOT ideal for microblading, as it doesn't retain the detail of the pigment well). Your brows will then be pencil drawn to specific meausurements, until you're happy with the shape. This will be used as the microblading template. A topical numbing cream can be applied for maximum comfort during the procedure.
Now the microblading can begin. The microblade is a manual device, made up of a series of super-fine needles (not actually a blade). It's dipped in pigment, and a slicing motion is used to implant pigment into the dermal layer of the skin (very shallow). The intricacy of the microblade allows for the simulation of the most natural-looking, fine 'hair strokes'.
What is the end result?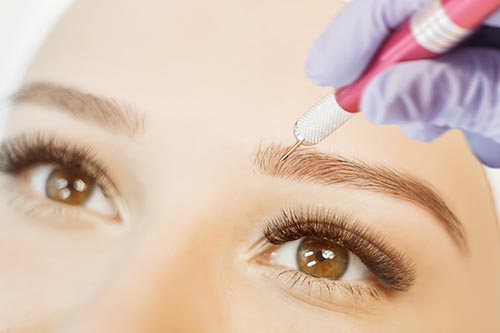 The end result is very natural looking (but fuller) beautifully shaped brows. The range of colours is vast and would be matched to your natural colourings, taking into account your preferred outcome.
How long does microblading last?
This depends on various factors including the oiliness of the skin, lifestyle, age of the skin, sun exposure, to name a few. However, you can expect it to last anywhere between 1 and 2 years, so that's a year or 2 of no eyebrow pencil…
MACHINE HAIR STROKES
You'll go through the same preparations as above. The result of machine hairstrokes is almost identical to microblading. However, the device used to create the simulated hair strokes has a needle cartridge. The tiny needle moves in & out of the skin very fast in a stitching motion, similar to a standard tattoo machine. It is known to be gentler on the skin then a microblade, causing less skin trauma.
SHADING EXPLAINED
After the same preparations as above, pigment is gently implanted into the dermal layer of the skin, to create a shaded look. The device used to shade brows is the same as the one used for machine brows (above).  Techniques and needle choices can be adapted to suit your skin for best results. The machine used at Bournemouth Permanent Makeup is similar to the rotary machines listed on this guide:
What is the end result?
The result of shading gives a look similar to powder brow makeup. Unsurprisingly, shading is often called Powder Brows. There are many variations in the result, so it can look very blocked for a stronger, bolder look or fairly subtle for a natural but neat & polished finish.
How long do powder brows last?
Generally, they last longer than microblading, simply because more pigment is applied to cover the whole area of the brow rather than just fine hair strokes. Again, lifestyle, skin type, sun exposure, and skincare regime can influence it but generally, you can expect your brows to last 2 – 3 years.
COMBINATION BROWS EXPLAINED
A stunning effect can be achieved by combining microblading and shading. This is a great option for people who want quite a natural look, but still, a bit more definition at the tail end of the brow than microblading alone generally gives.
How long do combination brows last?
The microblade parts of the brow would potentially fade faster than the shaded parts. However, a colour booster is recommended for all brow treatments once a year, which would ensure an even colour is maintained throughout the brows.
IS ONE TECHNIQUE LESS PERMANENT THAN ANOTHER?

In a word, NO! All above procedures are effectively tattoos (including microblading). While microblading and machine hairstrokes generally don't last as long as shading techniques, all permanent makeup does fade over time (see my blog on this). However, there is no guarantee that the pigment will ever completely fade.
So What Next?
If you would like to discuss these various options for permanent eyebrows and find out which option would suit you best then all you need to do is give me, Alex Milligan, a quick call to book in for a free consultation. Give me a call today on tel: 01202905342 / 07989946578.
Best wishes
Alex x.