WHAT'S THE DIFFERENCE BETWEEN MICROBLADING AND SHADING? 
You've decided that you want permanent eyebrows because you want to save ALL the time and look amazing, obviously.
But what should you go for? Microblading? Powder brows? Combination brows? What does it all mean?!
MICROBLADING EXPLAINED
After the skin is numbed, the pigment is gently placed very slightly under the skin using a state of the art hand-held tool (a microblade). The 'blade' is actually a series of super-fine needles. The intricacy of the microblade allows for the simulation of the most natural-looking, fine 'hair strokes'.
What is the end result?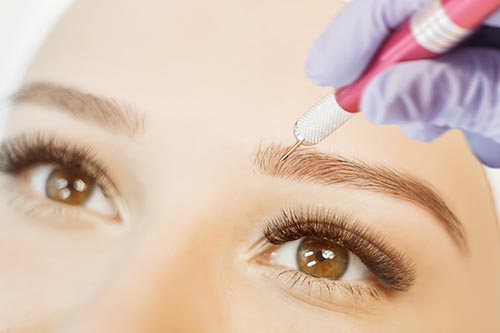 The end result is very natural looking (but fuller) beautifully shaped brows. The range of colours is vast and would be matched to your natural colourings, taking into account your preferred colour.
How long does microblading last?
This depends on various factors including the oiliness of the skin, lifestyle, age of the skin, sun exposure, to name a few. However, you can expect it to last anywhere between 1 and 3 years, so whether it's worth it is your call…but even if it's a year, that's a year of no eyebrow pencil…
SHADING EXPLAINED
As with microblading, the skin is numbed, then pigment is gently implanted very slightly under the skin. The tool used is an electronic digital permanent makeup machine, similar to a standard tattoo machine. This uses any configuration of tiny needles which move very fast. The machine used at Bournemouth Permanent Makeup is similar to the rotary machines listed on this guide:
What is the end result?
The result of shading gives a look similar to powder brow makeup. Unsurprisingly, shading is often called Powder Brows. There are many variations in depth of colour (depending on the application), so it can look very blocked for a stronger, bolder look or fairly subtle for a natural but neat & polished finish.
How long do powder brows last?
Generally, they last longer than microblading, simply because more pigment is applied. Again, lifestyle, skin type, sun exposure, and skincare regime can influence it but generally, you can expect your brows to last 2 – 3 years.
COMBINATION BROWS EXPLAINED
A stunning effect can be achieved by combining microblading and shading. This is a great option for people who want quite a natural look, but still, a bit more definition at the tail end of the brow than microblading alone generally gives.
How long do combination brows last?
The microblade parts of the brow would potentially fade faster than the shaded parts. However, a colour booster is recommended for all brow treatments once a year, which would ensure an even colour is maintained throughout the brows.
So What Next?
If you would like to discuss these various options for permanent eyebrows and find out which option would suit you best then all you need to do is give me, Alex Milligan, a quick call to book in for a free consultation. Give me a call today on tel: 01202905342 / 07989946578.
Best wishes
Alex x.