Time Saving Beauty Secret Reveals How to Save Time Applying & Removing Your Makeup Each Day.
Do you want to save time spent applying and removing makeup?
If so then I know exactly how you feel!
There's nothing more frustrating than rushing around in the morning trying to get your makeup right. And to make matters even worse you've got to spend even more time at the end of the day getting it all off again.
What if I told you there was a quick, easy and affordable way to simply wake up with perfectly applied makeup you've always wanted?
That's why today, I'm delighted to share with you my latest beauty shortcut secret – Permanent Makeup
Here at Bournemouth Permanent Makeup, we've been helping hundreds of women similar to yourself, who never had enough time when applying or removing their makeup.
And our FREE Beauty Secret Consultation Sessions means that you too can discover everything you need to know about how Permanent Makeup can really help change your life, 1 on 1 consultation in the privacy of our clinic.
You'll receive professional advice, you'll understand your options much better, and best of all it won't cost you a penny.
So call Alex now on tel: 07989 946578 and let's solve your beauty headache today!
To Learn More About This Incredible Time Saving Beauty Secret, Why Not Instantly Download Our Free Guide on Permanent Makeup …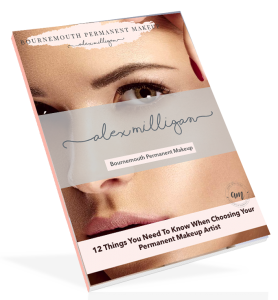 Enter your name and email in the form below to instantly receive our free guide on the 12 things you should know… Before having any permanent makeup treatment. (Price list included at the end)